Buy CBD Oil in New Hampshire
Is CBD Legal in New Hampshire in 2022?
YES! Despite New Hampshire having fairly restrictive marijuana laws, there are many places where you can buy CBD legally.
If you are a medical marijuana patient, one of the best ways to find CBD is to visit your nearest dispensary or discuss your options with your doctor.
If you're not a medical marijuana patient, don't worry. You're legally allowed to purchase industrial hemp CBD in all 50 states.
As a result of the 2014 Farm Bill, industrial hemp became an agricultural commodity rather than a prohibited drug. Previously, it was treated the same as LSD and heroin, and possession would be punished under harsh federal laws.
Now, farmers are legally allowed to produce industrial hemp products, including paper, clothing, food, fuel, and extracts — such as CBD.
Generally, the best way to find high-quality CBD in New Hampshire is to make your purchase online.
But before you dive in and spend your hard-earned cash on CBD, let's take a look at how you can tell the good stuff from the bad.
How to Find Quality CBD in New Hampshire
The CBD industry is reasonably new and overgrowing; this has led to a significant increase in the number of CBD companies — and not all of them are great.
Doing your research about a company and its products is the best way to save yourself time and money.
A Few Ways You Can Protect Yourself From Shady CBD Companies
Avoid companies that are making outlandish claims about CBD. Although CBD is providing much-needed relief to thousands of Americans, it's not a miracle drug. Any company that makes these kinds of statements is likely trying to take advantage of uninformed customers and make a quick buck before more regulations are established.
Trustworthy companies will have their products tested by an outside lab. Regardless of what a company claims about its product, there is no better way of making sure that it is legit than getting the CBD tested by a third party. A reputable CBD supplier will be able to produce these reports that show its products match what is advertised.
Buy CBD that is extracted using CO2. CO2 extraction is one of the best methods to make CBD. It doesn't require any additional chemicals or solvents, which helps keep the CBD as pure as possible. The necessary equipment to do CO2 extraction is expensive and, therefore, shows that the company is committed to quality.
Full-spectrum CBD is generally better than an isolate. Full-spectrum means that the CBD was produced with the entire plant, which captures other beneficial compounds — including terpenes and flavonoids. These other compounds help your body process CBD quickly and efficiently. CBD made with only parts of the plant may not have these compounds.
Are you feeling ready to try CBD for yourself?
Check out our guide below for buying CBD online and in-store!
Online Shops
Buying CBD online is the right way to go. Its almost always less expensive and more convenient than running around trying to find a reliable local supplier — especially if you aren't a New Hampshire medical marijuana patient.
Over the counter, CBD isn't usually sold by specialists. If you find CBD locally, it's generally in vape stores or tobacco shops. They may have limited information about CBD and the best options for your needs. You can find online shops that specialize in CBD and can recommend the exact product you're looking for.
When you make your purchase online, you'll be able to quickly compare multiple products and companies with only a few clicks. Locally comparing products is time-consuming and makes it difficult to properly research before you buy.
CBD found in-store costs more than CBD found online. Operating a physical storefront is not cheap, and the prices usually reflect this. Online stores can offer you bulk purchase deals or special offers to get rid of stock.
If you buy online, you open the door to hundreds of different products. Some of the most popular applications for CBD include tinctures, balms, lotions, creams, and edibles. You might even be able to find something for your pets.
If you feel more comfortable heading into a local store and looking at products for yourself, we have made a shortlist of places that should sell CBD in New Hampshire.
Take a look below and see if you can find your city!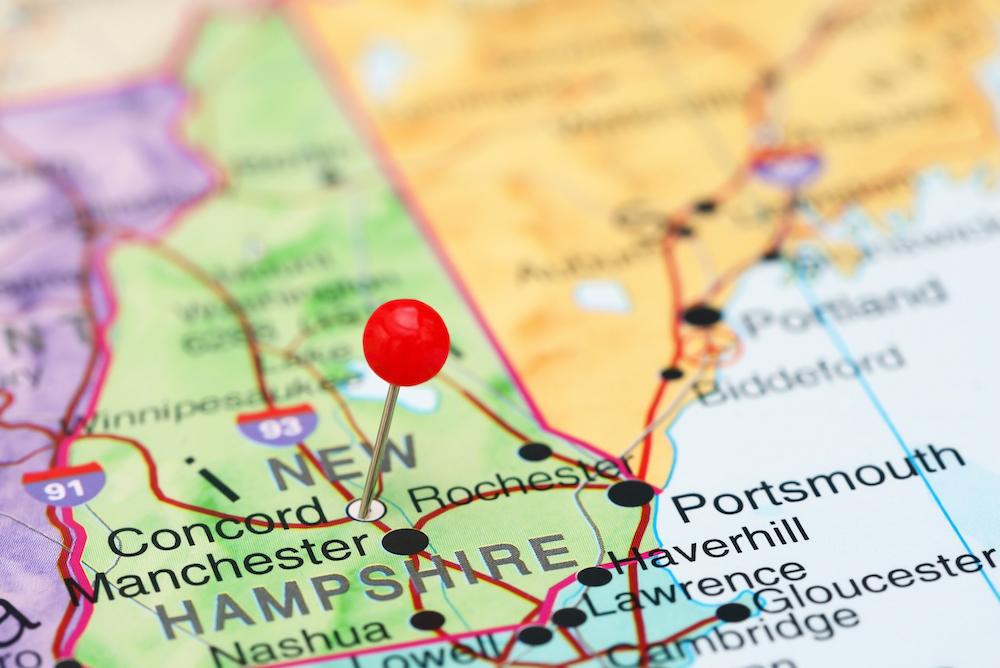 Local Stores in New Hampshire
Some of the best places to find CBD locally include vape stores, head shops, and natural health outlets.
If you have a New Hampshire medical marijuana card, however, skip those and head straight to a dispensary. Dispensaries will have the most knowledgeable staff who can recommend the right product for your needs.
Marijuana in New Hampshire
Currently, marijuana is legal for medicinal use in some circumstances in New Hampshire. Recreational marijuana could end up on the ballot in 2022, so keep an eye out for changes.
Possession Penalties
If caught with less than ¾ of an ounce, you'll receive a fine of $100. The penalties rise for each of your subsequent offenses. On your fourth offense, it becomes a Class B misdemeanor, and you'll receive a $1200 fine. Anything over ¾ of an ounce is an automatic misdemeanor with the potential for up to one year in jail and a $350 fine.
These same laws apply to hash and concentrates — less than 5 grams is a civil violation with fines, and over 5 grams is a misdemeanor.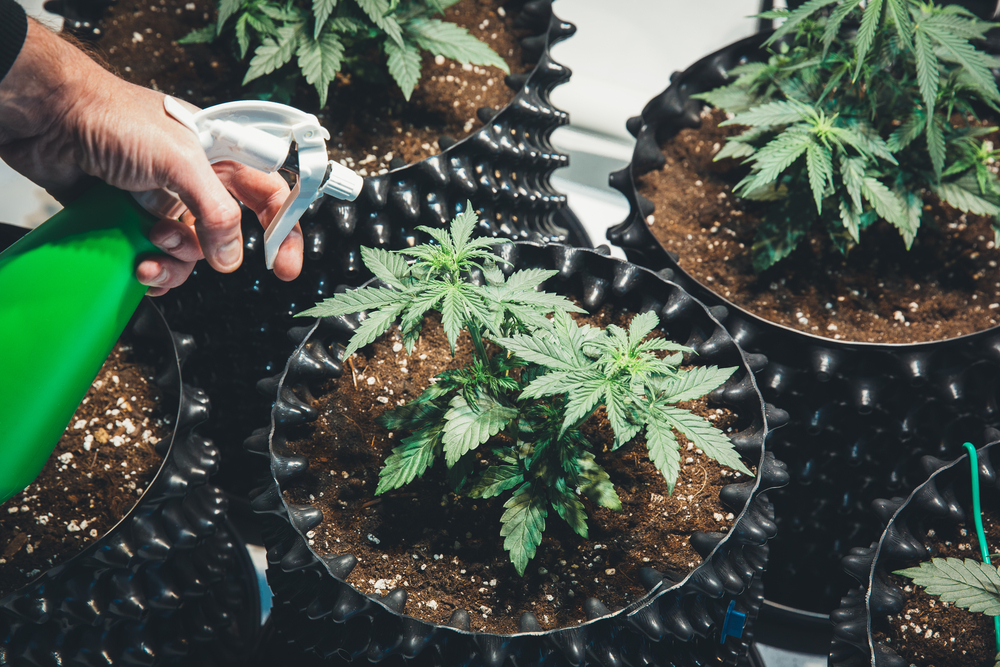 Growing marijuana is illegal and usually viewed as possession with the intent to sell. If caught, you could be charged with a felony and receive seven years in prison and a $100,000 fine.
Medical Marijuana
Medical marijuana became legal in 2013. However, New Hampshire's laws are some of the most restrictive in the country.
Governor Maggie Hassan signed a bill that allows patients with debilitating or terminal illnesses to purchase marijuana from one of the state's non-profit dispensaries.
Eligible Terminal or Serious Debilitating Medical Conditions in New Hampshire:
ALS
Cachexia
Chronic pancreatitis
Ehlers-Danlos syndrome
Elevated intraocular pressure
Hepatitis C
HIV/AIDS
Lupus
Severe vomiting
Muscular dystrophy
Persistent muscle spasms
Spinal cord injury or disease
Traumatic brain injury
Wasting syndrome
(Source)
Under this bill, patients may only use medical marijuana when other treatments have failed.
Merely having a severe medical condition is not enough to grant you a medical marijuana card. Your symptoms must be severe enough that traditional medicine is not sufficient.  
Any marijuana you possess must be from a state-approved dispensary. Even if you have a New Hampshire medical marijuana card, you still can't grow weed at home.
Once you're approved for medical marijuana, you can legally possess up to two ounces of weed.
How do I become a Medical Marijuana Patient in New Hampshire?
If you have one of the above medical conditions, you may be eligible to become a medical marijuana patient.
In addition to having one of the approved medical conditions, you must be a current New Hampshire resident and provide a written certification from your doctor.
You must have a pre-existing relationship of at least three months with your doctor before they can recommend marijuana as a treatment.
As of August 20, 2019, you can get a Written Certification not just from your doctor, but also from physician assistants who are now authorized to recommend the use of cannabis for therapeutic purposes.
You'll also need to submit a photograph of yourself, a $50 check for the registration fee, and a copy of a New Hampshire ID that shows that you're a resident.
You can find more information on the state website or by consulting your family doctor.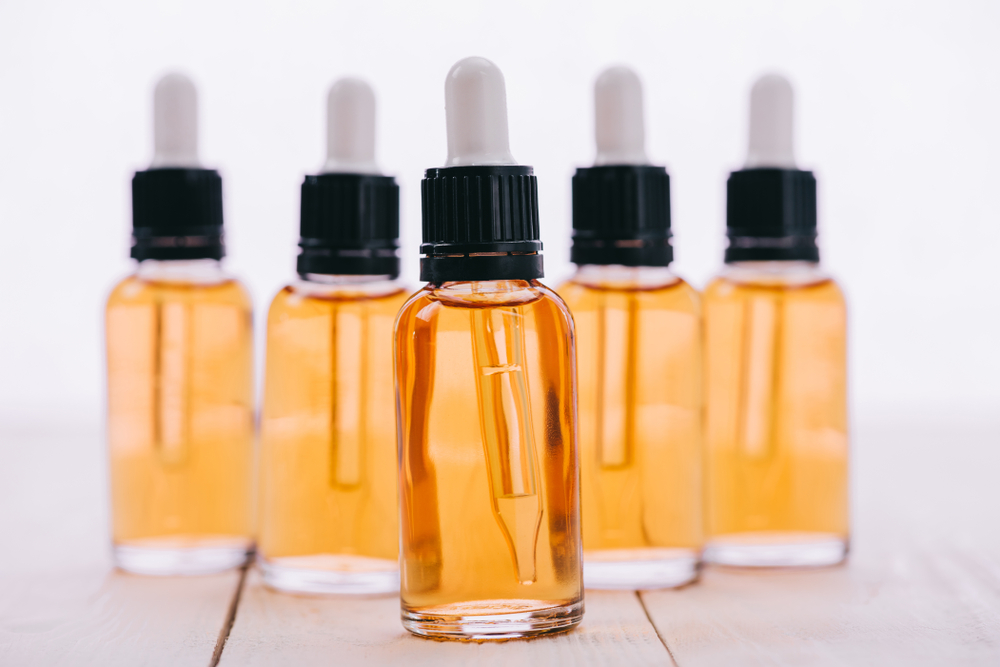 Is Delta 8 THC Legal in New Hampshire in 2022?
Delta 8 THC is legal in New Hampshire, so you shouldn't have any problem finding it.
Some states are shutting down access to it as questions over its legality come up. For now, you can enjoy it, whether you use it recreationally or for medical purposes. 
It's similarities to delta 9 THC make it a popular go-to for many things like pain and nausea. Of course, it also causes a high — just one more reason to love this cannabinoid. 
How to Buy Delta 8 THC
If you're shopping locally, look in vape shops and other places that sell CBD. Just be prepared for high prices. These places rarely test (or have proof of) the quality of the delta 8, making it a risky route to go.
Reputable online shops will make the third-party tests available so you can be sure what's in the D8. Not only that, but the prices are usually better and the selection can't be beat. By shopping online, you have access to almost everything D8-related. 
However, even the online market is flooded with companies. While most are okay, you don't want to waste your money on "decent" delta 8. At least, not when there's stuff out there that will knock your socks off. 
These vendors don't mess around when it comes to delta 8. You can know you're buying the best if you stick with them.
If you shop local, make sure you're careful.
Recommended CBD Retailers in New Hampshire
Manchester
Bedford Natural Medicine
Prime ATC
Smoker's Haven Manchester
Vaporamas Machester
Nashua
Lineage Vapors
Smoker's Haven Nashua
Evolve Vapor
Two Guys Smoke Shop
Wild Side Smoke Shop
Concord
NY Smoke and Vape Shop
Smoker Choice
Castro's Back Room
The Smoking Turtle
Wellness Corner Natural Pharmacy
All of these stores listed should have helpful employees who can point you in the direction of a local CBD source.
If you don't see your city here, try your local vape shop as a starting point. If all else fails, an online supplier can send CBD to your door within a few business days.
Final Notes on Buying CBD in New Hampshire
New Hampshire is slowly making progress with its marijuana laws. For the time being, medical marijuana is approved for use by certain people in particular circumstances.
If you are waiting for the day that New Hampshire legalizes recreational marijuana use, maybe it'll happen soon. In the meantime, head over to either Maine or Massachusetts for your needs.
You should be able to find industrial hemp CBD reasonably easily over the counter, but be sure you do your research before buying.
As always, we recommend buying CBD online to save yourself time and money.