Where To Buy CBD Oil in Georgia:
Is CBD Legal In Georgia in 2023?
Yes, CBD is completely legal in the state of Georgia — but there are some stipulations.
CBD oil produced from a flowering marijuana plant contains a higher level of THC, which is the chemical that produces the high associated with marijuana. Without a medical marijuana card, these are illegal in Georgia.
Even with a medical marijuana card, your oil must contain an equal amount of CBD to THC, and the THC level cannot exceed 5%.
The other types of CBD oil are produced from industrial hemp plants. These oils generally contain a THC content of less than 0.3% and don't get the user high.
Industrial hemp CBD oils are legal to purchase and possess in Georgia, and across the United States.
This is a result of the Farm Bill of 2018. The Federal government made changes to the Agricultural Act that removed industrial hemp from the Controlled Substances Act as a Schedule I drug.
These changes made it possible for farmers to legally grow industrial hemp as an agricultural crop to be used for paper, clothing, fuel, food, and research.
The Farm Bill opened the door to legal industrial hemp CBD oil production.
Industrial hemp CBD oil can be conveniently purchased online or in a limited number of stores in Georgia.
Follow our guide below to ensure you get quality CBD oil for the best price.
How to Buy CBD Oil in Georgia
The laws and regulations around CBD oil in Georgia are still a little unclear, which means it can be difficult to find a reliable source for your CBD needs.
The industry is relatively new, which means that companies are popping up like crazy, and many of them are selling sketchy products. Tests have found that some companies are selling oils that contain heavy metals, solvents, or no CBD at all.
Here are a few measures you can take to protect yourself from companies selling low-quality CBD oil products:
Always be sure to check if the company's products are tested and approved by a third-party lab. Some of the CBD products you may find on shelves contain significantly less CBD than they're advertising. These labs can also test for any foreign materials that don't belong in the oil.
Watch out for companies that claim that CBD oil is some kind of miracle drug. CBD oil is an extremely versatile health supplement that can help with many problems. However, CBD oil won't fix broken arms.
Purchase from companies that use CO2 as their method of extraction. CO2 extraction doesn't use any additional solvents or heat, which helps to keep your CBD oil pure and clean.
Making your purchase online is the easiest way to verify that the company's products are legit. If they're a reputable source, they should have all of these factors listed in an easy-to-find location on their website.
It may be difficult to double-check the source of your products in-store, but local shops should have knowledgeable staff who can point you in the right direction.
Why You Should Buy CBD Online
Making your purchase from a trustworthy online store is by far the most convenient method.
You can find your favorite CBD products in many forms, including creams, tinctures, balms, waxes, and some places even have products for your pets!
Online retailers generally have wider selections than local stores and can save you a lot of driving around the city to compare. Shopping online gives you access to discount deals and special offers that you probably won't find in-store.
As long as you purchase products with a THC content of 0.3%, you should have no trouble with the law.
Although we always recommend shopping online, if you would prefer to purchase your CBD oils in person, we've included a list of places in Georgia where you may be able to find them locally.
See if you can find your city on our list below!
Is Marijuana Legal in Georgia in 2023?
No, marijuana is not legal in Georgia except for medical purposes, and even this program is fairly rigid.
Some cities and counties in Georgia are taking matters into their own hands and have decriminalized marijuana. Of course, this doesn't mean you're safe to use or possess marijuana in these places.
Georgia Cities & Counties That Have Decriminalized Marijuana
A number of cities and counties in Georgia have decriminalized marijuana. This does not mean it's legal, but simply that the penalties have been drastically decreased. 
Here are the cities and counties in Georgia that have reduced the penalties regarding marijuana:
Atlanta (2017)
Clarkston (2016)
Forest Park (2018)
Fulton County (2018)
Kingston (2018)
Macon-Bibb County (2019)
Savannah (2018)
South Fulton (2018)
Tybee Island (2021)
Laws change quickly and often, so stay on top of your local laws to avoid issues.
Under federal law in the United States, marijuana is currently regarded as a Schedule 1 drug under the Controlled Substance Act. This means getting caught with marijuana by a federal authority can carry similar penalties to those associated with heroin, meth, and LSD.
Marijuana laws vary significantly from state to state. Historically, Georgia has had harsh penalties for possession of even small amounts of marijuana.
In Georgia, possession of more than an ounce of marijuana is a felony and can be punished with up to 10 years in prison.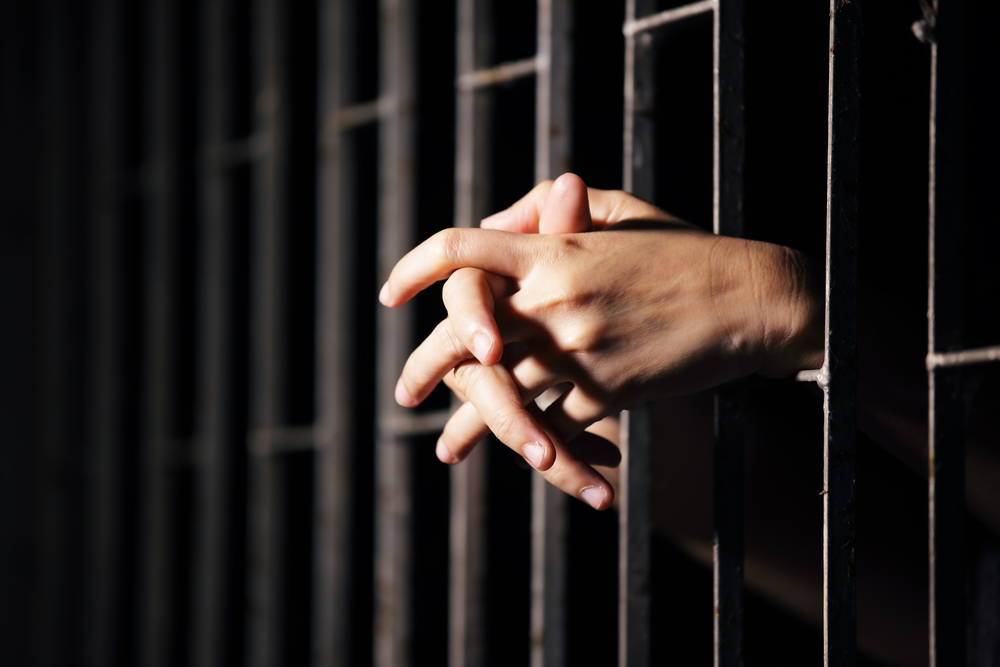 If you're caught with less than an ounce, it's a misdemeanor that can earn you one year in jail or a $1000 fine.
Although the state and federal laws often don't agree when it comes to marijuana, the federal government usually doesn't interfere.
Medical Marijuana in Georgia
In 1980, Georgia was among the first states to pass a medical marijuana law. The law was reserved for those who were suffering from severe glaucoma or cancer patients who were having side effects from chemotherapy.
However, the Drug Enforcement Agency (DEA) stopped the only source of Georgia's legal, medical marijuana in 1982. Unfortunately, the state had not delivered a single gram of marijuana to any eligible patients by that time.
The state's medical marijuana program was stopped in its tracks before it had even gotten started.
For more than 30 years, Georgia had a medical marijuana program written into law but had no source of legal marijuana.
Finally in 2015, State Governor Nathan Deal passed a law that would get the ball rolling on medical marijuana in Georgia.
Haleigh's Hope Act allows registered patients to possess up to 20 ounces of low-THC (less than 5%) cannabis oil to treat specific medical conditions. The amount of CBD must also be at least equal to the THC content.
If you're looking to register as a medical marijuana patient in Georgia, you must be suffering from one of the following conditions:
Amyotrophic lateral sclerosis
Mitochondrial disease
Tourette's syndrome
Epidermolysis bullosa
AIDS / HIV
Peripheral neuropathy
The patient is in a hospice program, either as an inpatient or outpatient
Intractable pain
It's important to note that medical marijuana laws in Georgia don't legalize marijuana use. They simply provide a legal defense in court if the authorities choose to prosecute you for possession.
If you're approved for a medical marijuana license in Georgia, you must also meet these standards when in possession of cannabis oil:
If you possess cannabis oil, you must be registered with the Georgia Department of Public Health and must have a registration card on your person when possessing said oil.
If you are under 18 years of age, then your parent or guardian must possess a card designating them as the patient's caregiver.
The medical marijuana oil must contain no more than 5% THC, and it must contain an amount of CBD that is at least equal to the amount of THC.
The low THC oil must be in a pharmaceutical container, and the label must clearly state the percentage of THC contained therein.
You may possess no more than 20 fluid ounces of low THC oil.
Remember that even if you meet all of the above requirements, it doesn't stop a police officer from arresting you and taking you to court for possession. It only means that you have a good reason for doing so when talking to the judge.
Much of the confusion around marijuana law comes from the fact that it's still totally illegal on the federal level. Regardless of what the state says, a federal authority can still come down and give you trouble.
However, there is hope if you wish you purchase CBD oil in Georgia. Even without a medical marijuana license.
Is Delta 8 THC Legal in Georgia in 2023?
The good news is that you can buy delta 8 THC in Georgia. Some states have banned it, and most question its legality, but it's accessible for now. 
Delta 8 makes a good alternative for marijuana; its effects and benefits are similar, just slightly less potent. The cannabinoid affects the endocannabinoid system (ECS) like delta 9 does but binds to the CB1 receptor a little less tightly. This makes delta 8's psychoactive effects milder and more manageable. 
Buying Delta 8 in Georgia
Treat delta 8 the same way you treat CBD: with diligence.
Go online for the best prices and the highest quality delta 8. The extraction method makes third-party tests even more crucial, so always look for these. 
Check out the following companies for the highest-quality delta 8 around:
You'll probably find plenty of stores locally, but too many companies don't care about the safety or quality of the products. 
Recommended CBD Retailers in Georgia
Vape Atlanta
EAV Smoke & Vape
Vape 911
Village Smoke
Savannah
Mary Jane's CBD & Vape Shop
Blue Smoke Vape
Sunset Novelties
Gallery Smoke Savannah
Ye Ole Tobacco Shop
Smoke City
Augusta
Your CBD Store
Victorious Vapors
iPuff Smoke & Vape
Aficionados of Augusta
Ragweeds Smokes & Tokes
If you don't see your city here, check out a reputable online source. Otherwise, your local vape stores and head shops may be able to take care of your CBD needs.
Final Notes on Buying CBD Oil & Delta 8 in Georgia
If you are eligible for a medical marijuana license in Georgia, you are legally able to buy CBD oils containing a THC content of no more than 5%. Remember that your license doesn't provide you with protection from the law; it simply gives you a defense in front of a judge.
For those of you without a medical marijuana card, you can easily track down great deals on CBD oil online or in your local vape stores and head shops. Or, try delta 8 if you want something that might work a little better. Many people even combine the two for greater effects.
It's almost always more convenient to purchase your CBD oils and delta 8 in Georgia through a trustworthy online store. They often have quick delivery and better deals than those you would find in-store.
Good luck hunting!