Although CBD laws are changing around the world, and new CBD companies are stepping up to the plate to supply the words appetite for CBD products — not all countries have easy access to CBD.
In many cases, CBD products are legal, but there are little to no companies operating within the country — or the ones that do are simply too low in quality. You could order products from other countries that have a larger selection of products, but depending on where you live, these companies may not offer to ship to your address.
The solution is a concept called mail forwarding.
People all around the world are using mail forwarding services to get products shipped from places like the United States, The United Kingdom, or Germany to their home address far away — even when the company doesn't offer direct shipping.
In this article, we'll cover how mail forwarding works, how much it costs, and offer a step by step guide to getting started yourself. We'll also cover some of the best mail forwarding services you can use depending on which part of the world yo live in.
Let's jump straight in.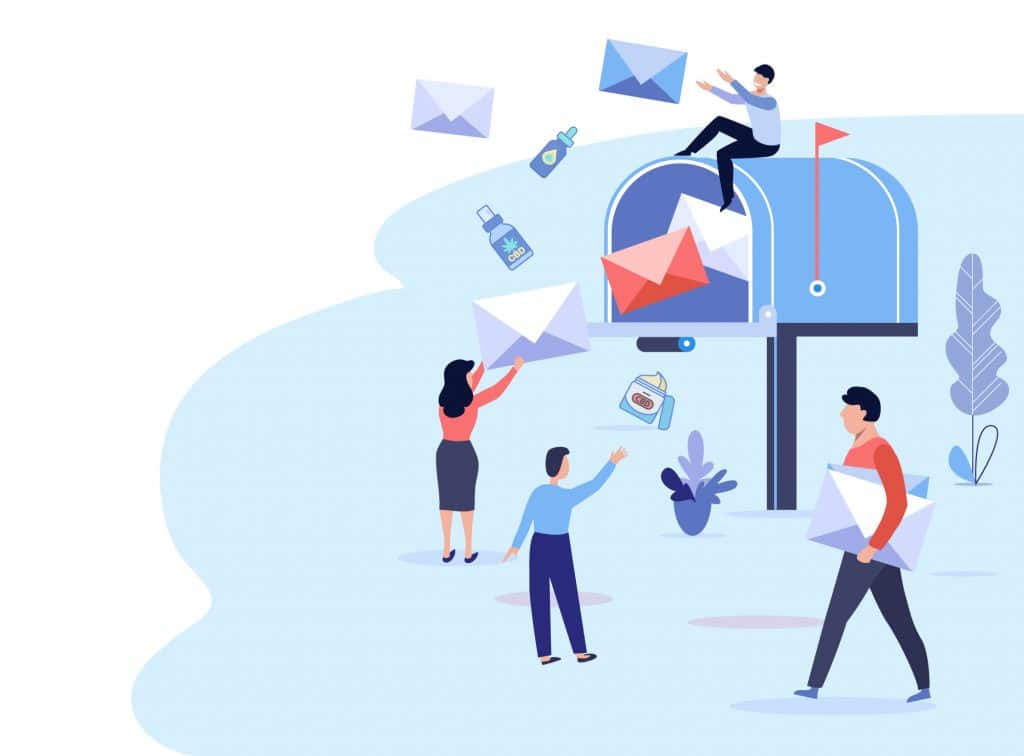 How Does Mail Forwarding Work?
Mail forwarding is a service that provides customers with an address in another country (such as the United States, the United Kingdom, or Germany). This address can be used during checkout to have CBD products sent to the address. Once the package arrives, the staff at the mail forwarding service will forward the package to your home or office address.
This process allows customers to have packages sent to their home address, even if the company they're buying from doesn't ship directly.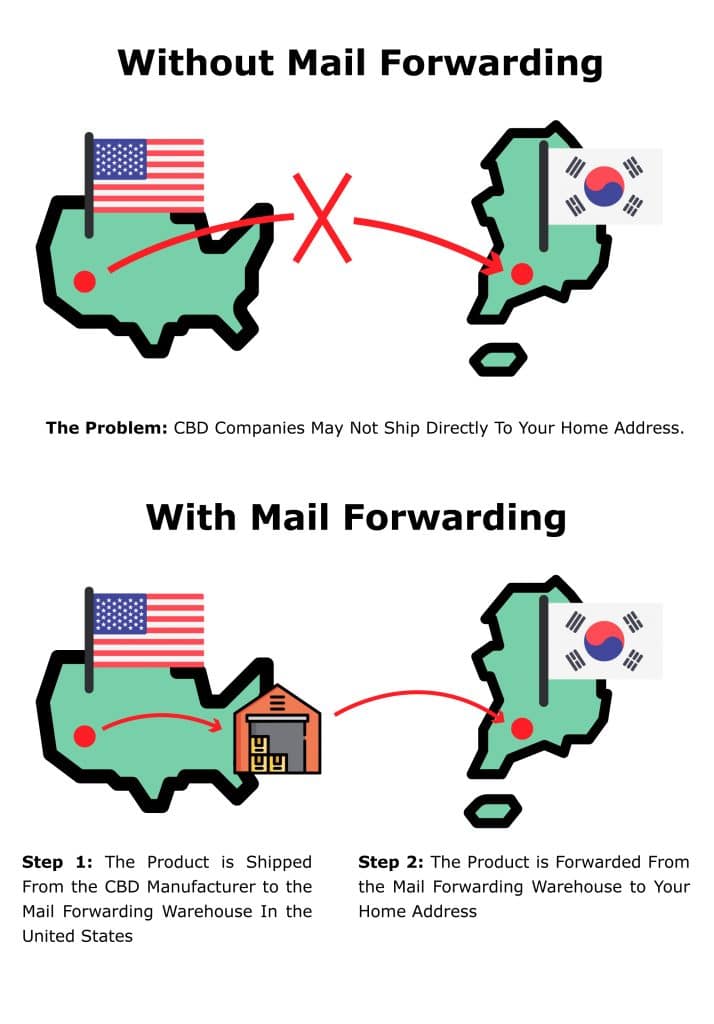 How to Setup Mail Forwarding
Setting up mail forwarding is simple — involving just a few steps.
Step 1: Register for the Mail Forwarding Company of Your Choice
There are many different mail forwarding companies around the world. Our favorite for products shipped from the United States is a company called Shipito.
If you're ordering products from Europe, Skypax is better as they will give you a UK address (London).  
There's a fee to register your account, but for both Skypax and Shipito the fee is nominal and one-time only. We'll cover the prices in more detail below.
To register you have to choose what tier of account you want (based on the level of insurance you want for your packages, and how often you plan to use the service). You can then set up your account details including your home address.
Once you register you'll be given an address in either the United States or United Kingdom. This is the address you'll use when ordering products.
Step 2: Order The Products You Want Using the Mail Forwarding Address
Now all you need to do is go to the website of the company you want to order from and go through the checkout process as normal. You'll use the address given to you by the mail forwarding company. If ordering from an American company, use an American address. If ordering from a European company, use a UK address.
Step 3: Await Your Order 
After ordering, the package will be sent to the mail forwarding address in the USA or UK — depending on the service you use. As soon as it arrives, the mail forwarding service staff will add new stamps to the package and send it to your home address.
The shipping times can take a while, since it needs to first travel to the mail forwarding warehouse, and then to your home address. It's common to have to wait a couple of weeks for your order.
You can usually choose to have priority shipping for an extra cost if you're in a hurry for the product.
Ordering From European Companies? Use Skypax
Skypax is based out of London, England. They're usually the best option for having packages forwarded to European and Asian countries.
Skypax also offers a concierge service (they will order the products for you) at 10% charge as well. This is an optional service to help make things as seamless as possible for you.
How Much Does Skypax Cost?
Membership
Registration fee
Annual membership fee
Average shipping costs
Standard Membership (If you only claim the service from time to time)
£ 12.00 set up
($ 15.00)
No
£ 30.00
($ 36.00)
Premium Membership (If you often order CBD and want protection for your packages)
£ 0.00
£ 90.00
($ 110.00)
£ 30.00
($ 36.00)
Ordering From American Companies? Use Shipito
Shipito is based out of the United States. This is the best option to use if ordering a product from an American CBD company. Most CBD companies in America offer free shipping, so you'll only need to pay for shipping from the Shipito service center to your final address.
This is a great service to use no matter where in the world you live. Shipito will send to virtually every country in the world.
With this company you also have the option for an Austrian address — so you could use it for European brands as well as long as they ship to Austria.
Just like Skypax, Shipito also offers a concierge service — available for an $8.50 fee + 4.3% processing + 8% commission. 
How Much Does Shipito Cost?
| | | | |
| --- | --- | --- | --- |
| Membership | Registration fee | Annual membership fee | Average shipping costs |
| Standard Membership (If you only claim the service from time to time) | $ 3.00 | $ 0.00 | $ 30.00 |
| Premium Membership (If you often order CBD and want protection for your packages) | $ 2.00 | $ 60.00 | $ 30.00 |
Summing It All Up
Thanks to mail forwarding you can have CBD products shipped no matter where you live (if legal of course).
The United States and the United Kingdom both have the largest concentration of CBD manufacturers in the world — selling a wide range of excellent products.
Unfortunately, not all CBD companies will ship worldwide. Many have chosen to stick specifically within their own country of operation to make things easier for them on a logistics level.
Using mail forwarding we can bypass this issue. Packages will be sent to a mail forwarding address within the country your buying the CBD from (UK or USA), before being reshipped to your final address anywhere else in the world.
Always be sure to check your local laws before you order CBD to your home country. Mail forwarding will be able to ship your package, but if CBD products are illegal where you live, you may be caught with a fine, or have your package seized by border security.
Only order CBD products if it's legal to do so where you live.